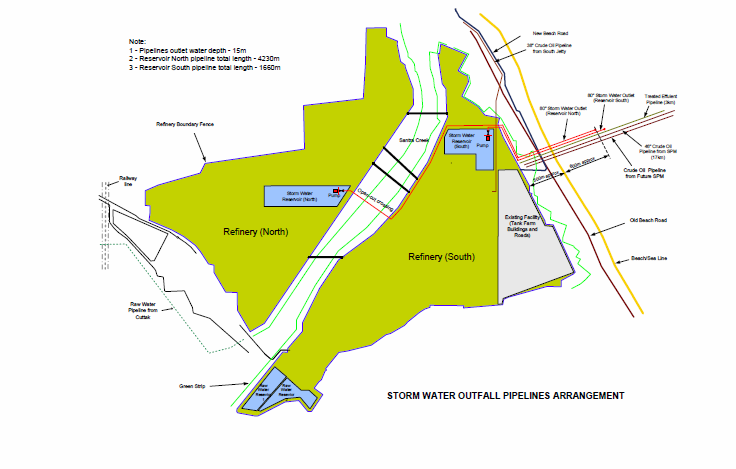 The Indian Oil Corporation Limited (COMPANY) is proposing to develop a 15MMTPA grass root integrated oil refinery and petrochemical complex at a site 5 km south of the port of Paradip in the state of Orissa on the northern part of the east coast of India. At present there is a tank storage facility and associated infrastructure situated on the Southern Site. The Front End Engineering and Design (FEED) and Front End Loading (FEL) phases of the project have already been completed. Infrastructure development to facilitate implementation of the Engineering, Procurement and Construction phase is in progress.
A prerequisite of the refinery development is to provide for storm water removal from the refinery area in conditions of heavy rainfall during monsoon season. As storm water run off is not allowed to be discharged into Santra Creek it is proposed that the water be routed from the storm water reservoirs into the sea via two pipelines, one from the Storm Water Reservoir North and one from the Storm Water Reservoir South.
The pipelines have been calculated to be nominal outside diameter of 1600mm.
Leighton Welspun Contractors Pvt. Ltd. (CONTRACTOR) has been awarded this project on a Lump Sum Turn Key (LSTK) basis.
UPCEM Scope: PGTR and handover of the complete work