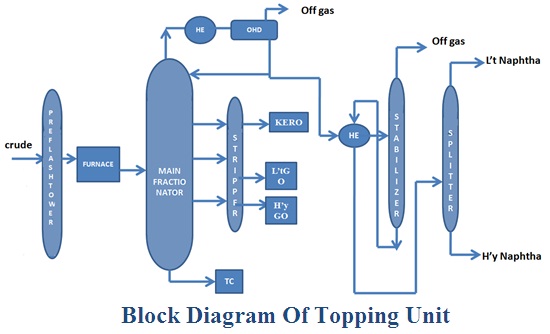 MPE MANN Refinery Topping Plant Commissioning and PGTR with NOVATECH Process Equipment Pvt. Ltd.
Location: Onshore-Thanbayakan, Myanmar
Design Capacity: 25000 BPSD of Crude Oil                                                                                                                  
The Purpose of the Topping unit is to convert the crude oil into Light Naptha, Heavy Naptha, Kerosene or ATF, LPG, Light Gas Oil, Heavy Gas Oil and Topped Crude by distillation. This unit is designed for the two operation cases i.e. Normal operation and ATF operation.
UPCEM Scope:- Pre-Commissioning, Commissioning & Handover Management for complete project and                                                                                    Commissioning Manpower Supply.
Process Equipment's in Topping Unit consist of broadly the following:
Steam driven centrifugal pump
Motor driven centrifugal pump
Preheater(Shell & Tube heat Exchanger)
Pre flash tower
Crude charged fired heater(furnace)
Atmospheric distillation tower
Cooler(Shell & Tube heat Exchanger)
Dehydrator
Three phase Separator
Stabilizer
Splitter
Stripper
Process Facilities in Topping Unit consist of broadly the following:  
Industrial water
Cooling water
Nitrogen
Utility air
Instrument air
high pressure and Low pressure steam
Fuel gas