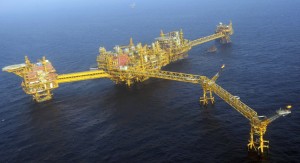 MHN-Process Platform & Living Quarter project of ONGC with L&T Ltd
Location: Offshore
Value of the Project: USD 1 Billion
MHN process complex consists of existing MNW process platform, NA well cum process platform and proposed MNP process platform, MLQ living quarter platform and flare tripods MNF1 & MNF2. All the processing facilities i.e. fuel gas system, separation, produced water treatment, gas compression and dehydration, gas sweetening etc is installed on this platform. In addition there are testing facilities for testing of production coming from individual platforms.
UPCEM Scope: Complete Pre-Commissioning, Commissioning & Handover Management for complete project and Commissioning Manpower Supply.
Processing facilities at MHN process platform consist of broadly the following:-
Well fluid receivers

2 No of Production / 1 No of Test manifold

MPFM for testing of individual platform production

Well Fluid processing facility (2 trains consisting of HP Separator , LP separator & Vertical Stabilization

vessel)

Oil, gas and water separation and processing of oil to meet required specifications

Oil pumping facilities for pipeline transportation and tanker loading. Oil pumping facilities include Crude transfer pump and Restart pump. The Main Oil Line Pumps are free issue items supplied by the company.

Gas compression (gas compressor modules to be supplied as free issue) and dehydration facilities for compressed gas from MNP and MNW PGC

LP Gas Compressor System

Produced water treatment and disposal facilities

Sweetening facilities for sour gas from B-Series platform and sour condensate handling facility

Launchers for stabilized oil, Lift gas etc.

Vent system for disposal of waste gases

Hot Oil System and WHRU system

Gas and Oil metering with Custody transfer meter only for tanker loading stream.

Gas Lift manifold with metering

Chemical transfer, storage and Injection System

Fuel gas conditioning system

Closed Hydro carbon, OHD and ODD system

Sump Caisson with Blow-case & water sampling facilities

HP, LP and Acid Flare systems

Fire Water pump and fire water network & sprinkler system

Vent stack with CO2 snuffing system

Portable HC, Hydrogen and H2S detectors

Utility water pump and distribution network

Diesel storage, treatment system and transfer system

Power Generation and distribution system

Emergency Generator

HVAC system

Cooling water System

KOD for separation of liquid and vapour in the NQ-MNP 24 LP Gas line

Instrument air/Utility air system

Nitrogen system

Utility water system

Hypo-chlorite system

Potable water system

DM water system

Sewage treatment system